Rotorcraft Simulation Environment
In 2012 the Rotorcraft Simulation Environment at the Institute of Helicopter Technology has been designed and constructed. It will be used for Pilot-In-The-Loop simulation of flight close to ground and in obstacle proximity. Hence the high fidelity external view plays an important role in the design.
Projection System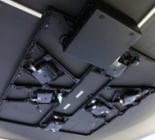 The external view provides a large field of view of 200° horizontal and +30°/-50° vertical on a spherical screen with a diameter of 5m. This is afforded by 6 projectors, each with a WUXGA-resolution (1920 x 1200 px). For a perfect matching of each projected image a camera-based auto-calibration system is installed. With the help of the calibration- system, image warping and blending can be realized within the image generator software.
Hardware Architecture
For different research applications a modular concept is vitally important. With such modularity it is possible to both simulate different helicopters and exchange hardware or software components very quickly.
Within the architecture the "Sim-Host" and the "Instructor Station" are the core elements of the simulator. The former simulates the flight physics of the helicopter as well as it takes over the data management and the time scheduling of the simulation. In the cockpit, two human machine interface computers are installed. Another six computers are used for the image generation of the external view.
Bo105 Cockpit
The original cockpit of a Bo105 offers a realistic environment for the pilot. The unmodified dual-controls with artificial-force-feeling and trim-functionality provide realistic handling qualities. The instruments have been replaced by four 15" touch panels. Hence existing and future cockpit designs can be simulated.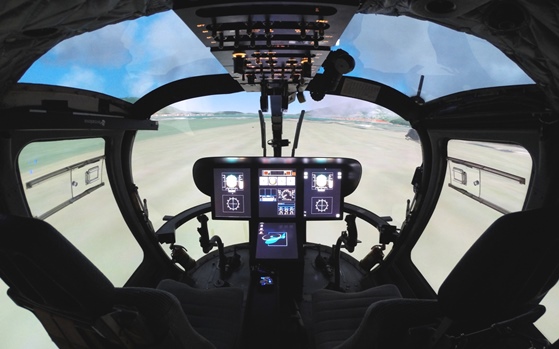 Terrain and Navigation Database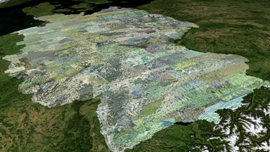 The simulation database consists of a digital elevation model with a resolution of up to 1 m and high resolution aerial images (resolution of up to 0.20m/px).