---
In light of growing demand for resource efficiency and system efficiency, lightweight design is becoming an important factor not only in the aerospace and wind energy industry but also in the car and sports equipment industry.
The increasing application of CFRP parts leads to a growing level of automation during the manufacturing process. Automated processes such as Automated Fiber-Placement (AFP), Liquid Composite Molding (LCM) and braiding respond highly sensitive to a variety of parameters. The same applies to upstream processes regarding semi-finished goods and the preforming process.
By Online Process Monitoring (OPM) one can influence the ongoing manufacturing process. This measure allows to maintain or to improve the process stability and process quality.
Take the AFP Process for example; here we investigate various methods of OPM. Our goal is to increase the process know-how in order to make the process robust and ready for future high-volume applications (Figure 1).
Research on LCM process monitoring is currently focused on fiber optic sensors, e.g. Fiber Bragg gratings and Fresnel sensors. These sensors allow monitoring flow fronts and viscosity development for example (Figure 2).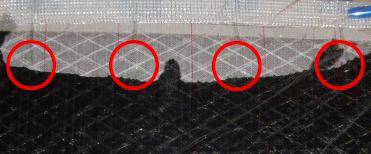 Extending service life is another possibility to cut costs during operation. Structural Health Monitoring (SHM) systems allow to sense critical loading conditions which can lead to failure. SHM plays an important role to improve safety and to reduce service intervals. Therefore, a growing number of SHM sensor systems are available on the market.
LCC has gained experience in SHM by investigating several optical, electrical and mechanical methods such as eddy current sensors, acoustic emission sensors and laser techniques.
Our research goal is to link the process monitoring with the structural monitoring. We envision a universal sensor system that gives feedback during manufacture and which can be used subsequently as a structural sensor during service life.